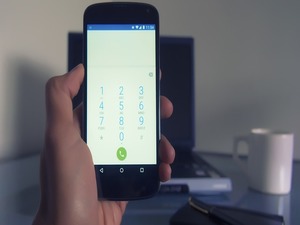 Some great changes ahead for Android users. Built into the OS, the user will be able to access the quick settings button even if the phone's lock screen is on simply by dragging down from the top of the screen. It doesn't matter if your phone is PIN protected either. In other words, the user would be able to quickly turn off Bluetooth or Wi-Fi without unlocking the phone.
The user can also customize their quick settings. In the previous Android 5.0 the user wasn't able to get rid of certain toggles with the Android 5.1 just a long press on whichever button that you want to hide so the user has more control over the appearance of the panel.
There's also Device Protection which is currently only available to the new Nexus 9, Nexus 6, and the new Android 5.1 devices. If the user sets a secure lock screen method like a PIN it's automatically activated and it adds various security measures to make it harder for someone else to access your device. Your device will stay locked unless you enter your Google password, even after a factory reset.
The Android 5.1 also has support for running two SIM cards on one phone. The dialer app allows the user to choose between SIM cards, and it will also color code its interface to make sure the user knows which one they are using for any given task.
By tapping Wi-Fi or Bluetooth in the quick settings drawer Android 5.0 would turn these on and off. Android 5.1 has upped the capabilities by being able to scan for nearby devices or networks. Android 5.1 also has the ability to remember when it hooks up to a Wi-Fi network with poor connectivity, and it tries to not automatically connect to that same network again.
What Does This Mean For Work?
With a refreshed notification system, individual notifications will be displayed on cards which adhere to the material design language and your notifications can be grouped by the app that produced them. The web browser can show all of its open tabs as individual cards rather than only one entry at a time.
Android 5.1 also contains some major new platform features with over 5,000 new API's (application program interface), and a new battery saver mode. Android One brings standardized hardware requirements which will help with work and personal calls.
Android 5.1 added HD Voice with wideband audio codes allowing for much easier hearing of conference calls on networks which support Android 5.1. The user can also go to the quick settings screen and hook up to a WiFi network on the go or at the office. The newest software is supposedly designed to bring more support for the Android At Work initiative which is a way for businesses to use and build apps which are designed for security and safety.
IT administrators' concerns could be alleviated with the lock features of the Android 5.1 which employees may use to access and store business data and applications. This would reduce the danger of data leaks and data theft for businesses in case the Android device was stolen or lost by an employee.