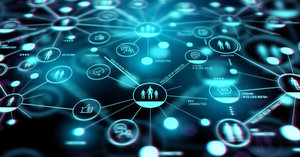 Millions of Dark Web records for sale can create corporate cybersecurity risks from unexpected sources. Companies expect danger from bad actors who use corporate password lists and compromised credentials obtained on the Dark Web to mount attacks. But companies may not account for the cybersecurity danger that comes from the millions of Dark Web records for sale from other sources. By adding smart solutions that account for those possibilities, companies can guard against those potential problems.
Social media breaches can provide cybercriminals with ammunition
Everyone shares their lives on social media, and that makes social media records valuable on the Dark Web. Millions of social media user records are available in Dark Web markets, including 267 million Facebook profiles that hit the Dark Web in April 2020. These stolen social media profiles put companies at risk by exposing the personal data of staffers and executives that can then be used to mount highly convincing spear phishing attacks, potentially resulting in a cybersecurity disaster.
Passwords stolen in retail breaches can impact other businesses
The millions of consumer records that are for sale on the Dark Web can also threaten businesses. It's estimated that 60% of the data on the Dark Web can harm enterprises.  Are staffers reusing passwords at work that they're also using for online shopping? In a recent breach of over 160 million records from 10 major sources, records were sold from many retailers including Home Chef, Minted, and Tokopedia. Businesses can't take action to mitigate a threat that they aren't expecting, and that can set them up for trouble fast.
By using a solution like Dark Web ID, businesses can find out if their staff's login credentials have been compromised. Our 24/7/365 human and machine blend of monitoring and analysis intelligently spots Dark Web threats and alerts companies to pitfalls, allowing IT teams to take care of problems before they become disasters. This is especially important for privileged administrator and executive credentials that could provide bad actors with avenues to cause expensive damage that could also result in regulatory trouble.
Contact us now to learn how Dark Web ID can combat threats like these and add value as part of a comprehensive digital risk protection platform.
Article used with permission from ID Agent